Family Photography Glasgow | Advantages of a Family Photoshoot
Family photoshoots are popular among many people who want to capture memories in a professional environment. There are many advantages of getting family photography in Glasgow including;
Professional Photographer
One of the most obvious benefits of a family photoshoot is that the quality of the photos that you will get out of it. A professional photographer will be able to capture moments and produce pictures that are extremely high quality – far more than a phone camera ever will. As well as good quality photos, professional lighting and props can also be used. This adds to the professionalism.
If you don't want a staged set them many family photographers will even come to your home to capture more candid moments.
Feel Relaxed and at Ease
Professional photographers are trained and experienced in how to handle most situations that can arise during a photoshoot.
Even if you have young children, hiring a photographer with experience in children's photography can reduce stress as they know how to distract restless children and understand that sometimes kids just need a little bit of time before they'll sit still.
Captures Precious Memories
The pictures that you will get from family photography in Glasgow will hold some amazing memories. A picture is a snapshot in time that you can cherish forever.
A Great Gift for Loved Ones
As well as having great images for you to take home, family photographs can be a great gift for friends and relatives. Kids school photographs can be a great gift, but there is generally always that's amiss – stray hair, toothpaste on their shirt that they somehow managed to hide from you before they left. With family photography in Glasgow you have more time and control in front of the camera, helping ensure that you'll get the perfect snapshots.
Family Bonding
A family photoshoot can be an excellent form of family bonding. You can get creative and make it fun, rather than just sitting in front of the camera. A popular photoshoot among parents of young kids is the cake smash. There are many inventive ways that families can enjoy a photoshoot together.
Comfort
Having photos of loved ones around can provide you with comfort. Photos are a great way to remember those who are no longer with us, as well as those who are far away and we don't see often.
Helps Children Remember Ancestors
A photoshoot with all the family – including the older generations – can help children remember them in the future. Not only will they have brilliant memories from the photoshoot itself, they can also have those memories in photograph form. Which can be passed down through generations and keep the memories alive.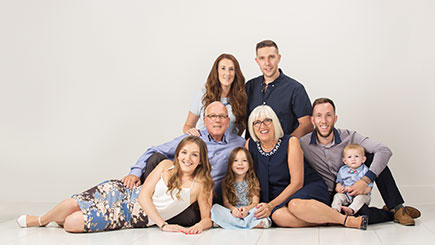 Family Photoshoots for Occasions
A family photoshoot that is set up for a special occasion. Such as a birthday, graduation etc. can provide unprecedented amounts of nostalgia later on. Getting family photography in Glasgow to commemorate a special occasion can be a wonderful thing.
---